Archiving and museumification of objects of contemporary art, due to the acceleration of the processes of creating and updating its samples, will most likely lead to the relevance of large open funds such as malls with network access, which will also increase the audience and motivate them to participate in the processes of creating contemporary art.
Most of the leading curators of the world's largest museums of contemporary art are unanimous in their opinion that the latest art combines the basis of local traditions and global world trends, one of which is the mediation of art. That is, paints, gypsum and stone were replaced by computers and software.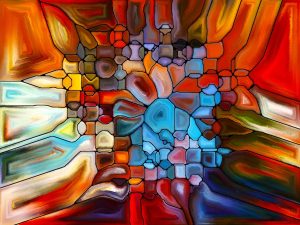 In one of the world's museums ARS Electronica in Linz (Austria), one of its exhibits is an interactive media facade of the building, which can be controlled by the visitor using the control panel. At the New Museum of Contemporary Art in New York (NewMuseumofContemporaryArt), at the entrance, the viewer can get a "virtual" helmet that flips the image in order for a person to reconsider their ideas about art. The project "Pool" was also presented there, where the visitor could change clothes and swim in a mass of gel, becoming an exhibit for visitors who did not dare to swim.
Actually, another important aspect of contemporary art arises here, when the viewer, entering into communication with the object of contemporary art, becomes an exhibit, part of the exposition. In such forms of art as street art, performance art, happenings, the viewer is a communicator, co-creator and accomplice of the artistic process. At fairs, festivals and other presentations of the latest art, projects often act as motivators for the creativity and creativity of viewers in various fields of activity. As a result, the audience expands far beyond the "iso" lovers.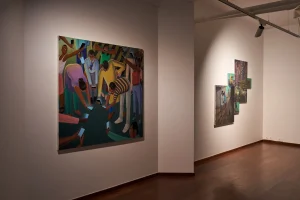 Modern art can be considered from the point of view of psychoanalysis. This is a kind of realization of atypical behavior in forms close to art. It is logical to assume that for a modern artist, the role of provocative debunking of taboos and anomalous identification are the most important conditions for his contemporary. Atypical perception of reality has always been the engine of the artistic process in general and individual creativity in particular.
Such forms of modern art activity as street art have become commercially successful from marginal in the Western world, the works of their creators are listed at auctions and become part of prestigious private collections. You can remember the phenomenon of British artist Banksy (Banksy), who came out of street art, and his broken telephone booth, sold at auction for 550 thousand dollars. For example, in Russia such atypical artistic activity is highly politicized and, in fact, persecuted by the authorities. There can be no talk of any commercial phenomenon of art, like Pavlensky or the Voina group, or Pussy Riot.