David Hockney OM CH (Eng. David Hockney; born July 9, 1937, Bradford) is an English artist, graphic artist and photographer who spent a significant part of his life in the United States.
Education
1953-1957 Bradford Art School.
1959-1962 Royal College of Art in London.
Activity
In 1963, Hockney moved from Great Britain to the USA, Los Angeles, for the sake of a more liberal political climate. A prominent representative of pop art in the 1960s, he is considered one of the most influential artists of the 20th century. One of the 45 Knights of Honor. Since 1968, Hockney began to work in a photorealistic style of painting and developed a delicate manner of painting. But already after his passion for stage design, David in 1982 began to work with Polaroids. Over the next 2 years, Hockney created many images, in some cases large-format Polaroids and photo collages, although this method was created by him a year earlier and was called "Joiners". In addition to photorealism, he painted minimalist paintings, such as Mr. and Mrs. Clark and Percy, as well as works in the pop art genre (Big splash, Peter gets out of Nick's pool).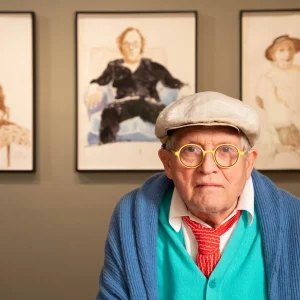 In April 2008, David Hockney presented the Tate Gallery in London with his largest painting, Tall Trees near Warter (the size of the canvas is 4.6 by 12 meters). The painting was first exhibited in 2007 at the Royal Academy of Arts.
In November 2018, David Hockney became the most expensive living artist. His painting titled "Pool with Two Figures" was sold at the Christie's postwar and contemporary art auction in New York for a record $90,300,000.
Progress Medal (Royal Photographic Society) (1988)
In 1989 he became the first laureate of the Imperial Prize (Japan).
In 2012 he was accepted as a member of the British Order of Merit.
Features of the work of the artist David Hockney: the most popular paintings of Hockney in the pop art style depict pools with bright blue clear water. Many of the artist's works are made with almost photographic realism. In addition, Hockney invented his own technique for creating photo collages from hundreds of small photographs taken from a single point.
Famous paintings by David Hockney: "Portrait of the Artist (Pool with Two Figures)", "My Parents", "Peter Gets Out of Nick's Pool", "Mr. and Mrs. Clark and Percy", "Pearblossom Highway", "Tall Trees near Warter".
David Hockney has a favorite anecdote. A man comes to the doctor and asks what he needs to do to live as long as possible. The doctor, after several questions about lifestyle, concludes: "You need to quit drinking, smoking, giving up fatty foods and sex." The horrified man asks, "And then I will live longer?" The doctor replies, "No. But you will definitely feel that it is."
In the case of David Hockney, this joke sounds especially funny. The artist is considered one of the most popular painters among the living. And at the same time, Hockney did not deny himself anything all his life: neither in love, nor in bad habits, nor in entertainment. True, after he crossed the line of three-quarters of a century, he had to give up alcohol (although he replaced it with … medical marijuana), but even at an advanced age, Hockney did not quit smoking and repeatedly stated that he was always open to new love adventures.
Exactly the same – enthusiastic, tireless experimenter – David Hockney has always been in his work. And it is she who he calls the main love of his life. Even as a real old man by some standards (but not by his own), he continued to look for new ways to create and share his creativity with people: drawings on electronic gadgets, multimedia screens, video installations. No one would be surprised if, sooner or later, Hockney began to show the public pictures from the future.